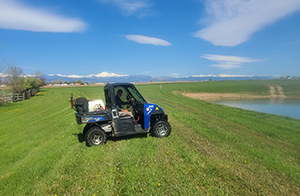 Weeds have no boundaries. They do not discriminate between urban or rural environments. Weed Man Fort Collins, CO has the knowledge and experience to correctly identify weeds that are detrimental to your site location and to choose the proper herbicides that will best match up with the targeted pest. Our intent is to partner up with customers to create and maintain a sustainable environment for both you and your neighbors.
WHAT OUR SERVICES OFFER
Weed Management for Urban Native and Open Space Areas
Weed Management for Rural Rangeland and Pastures

The Colorado General Assembly passed the Colorado Weed Management Act in 1990, titled Colorado Noxious Weed Act, that requires landowners and managers to manage invasive noxious weeds, enforceable by County Noxious Weed Supervisors. Weed Man has licensed applicators who are familiar with all the designated A, B or C listed weeds for Larimer and Weld counties and we will utilize the proper herbicide choices with an awareness to wildlife, livestock, surrounding desirable vegetation, the environment, and of course people.
Bareground Weed Control in Industrial and Commercial Properties
Total vegetation management is often required by law, or by necessity for ease of work, whether the site locations are big or small. These sites can be rural farmsteads or commercial properties in an industrial park. We offer season long weed control that adheres to all registered herbicide label requirements and have the experience and knowledge to choose the best timing for all circumstances.