Mike and Rebecca Schulz | Owners


Mike and Rebecca Schulz, owners of Weed Man Fort Collins, CO, have been married for 14 years and have two daughters together. After working as engineers for a combined three decades, they decided to leave Corporate America and put their professional skills and experience to work by building a small business that is personal, impresses customers, meets it's commitments and is fun to work at...and they've done just that! 

Mike and Rebecca have secured a top-notch roster of people who want to work in areas of their strengths, while constantly improving upon their skill set to become the absolute best in the business. They take pride in the culture they've built internally, and are proud to extend that philosophy to their customers as well. 

At Weed Man Fort Collins, CO, customers receive the best of the best when it comes to service and results on the lawn. After all, a beautiful lawn strengthens families and builds community. In their mind, customer referrals are the best compliment. More customers mean the opportunity to help develop their team of lawn care experts, and that results in financial success, making their family's future even brighter than it already is!

In their free time, Mike, Rebecca and their two daughters love to spend time outdoors - mountain biking, hiking, camping, traveling, swimming and enjoying their lush, green lawn with friends and family. They work, live and play in  your  community. 


Kevin Gallagher | Senior Lawn Care Technician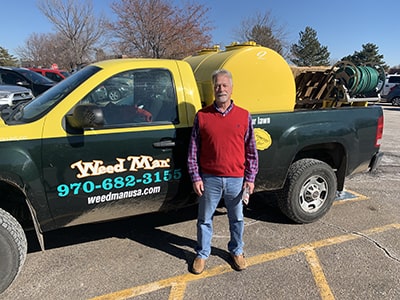 I have been in the manufacturing and wholesale distribution business for 30 years in the non-crop market, covering the Rocky Mountain, Desert Southwest, and Great Plains region.  I was employed in 2019 by Weld County Colorado Public Works Department for their Natural Resources Division controlling invasive noxious weeds in the Pawnee National Grasslands. In 2020, I began work with Weed Man where I focus on Bareground and Vegetation Management applications.  I majored in Animal Science at South Dakota State University and was a herdsman/research manager for Purdue and Texas Tech Universities before working for a large lawn & tree care company in the northern Front Range of Colorado.  I've lived in Fort Collins since 1982.  A few of the companies I have worked for were Dupont Vegetation Management, Bayer Animal Health, and various regional and national wholesale distribution companies.  I'm happily married to my wife, Rita, have two kids and 2 grandkids.
Looking for lawn care services for your home? Look no further! Weed Man Fort Collins, CO is a locally owned and operated business, built from the ground up - one customer and one lawn at a time. Get in touch today to request your free lawn care quote!